Whoa…it is August, and to be honest, this summer has been jam-packed for me. However, unlike the previous summers where I was busy doing fieldwork or analyzing my samples in the lab, my goal this summer has been to communicate my research. As I discussed in an earlier post, I am trying to become more involved with science outreach, and have been on the lookout for new opportunities to share my research with a non-academic audience.
Fortunately, my outreach mentor helped me connect with a man who does a lot of work promoting clean water in the upper Chesapeake Bay. After a quick email introduction and brief overview of my research, he recommended a few community outreach opportunities that he thought would be appropriate venues to share my work.
In particular, he invited me to have a booth featuring my research at two "Wade-In" events in the upper Chesapeake Bay. The "Wade-In" was inspired by former Maryland State Senator Bernie Fowler, who has been monitoring water quality in the Patuxent River since the late 1980s by measuring how deep he could wade into the water in white sneakers before he could no longer see his shoes.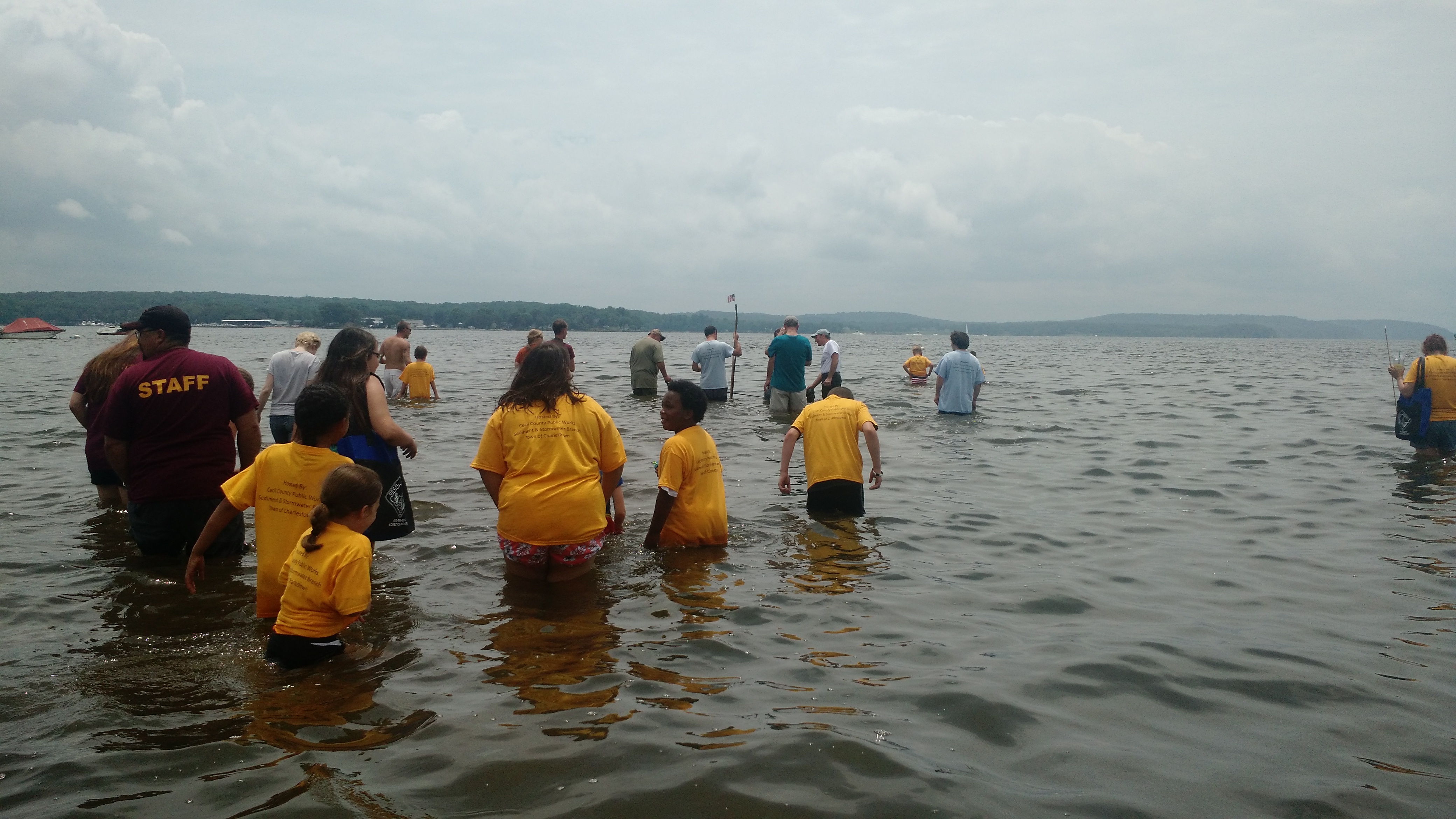 These wade-ins turned out to be perfect events to talk to people about my work, learn about other environmental organizations that promote clean water, and see people excited about environmental stewardship.
I set up a display titled "What's mud got to do with it?", where I showed people how smaller sediment particles (aka "mud") reduce visibility in the water column more than larger particles (aka "sand") because it takes them longer to settle. It was really fun talking with people who stopped by my booth about why clean water was important to them and it was especially cool to have people of all ages participating in a demonstration I set up, where they would shake up water bottles filled with mud and sand to see which is worse for water quality.
Eventually it was time for the official wade-in where all attendees were encouraged to walk into the water until they could no longer see their feet. It was great to hear people yelling that they could still see their toes as they walked farther away from shore.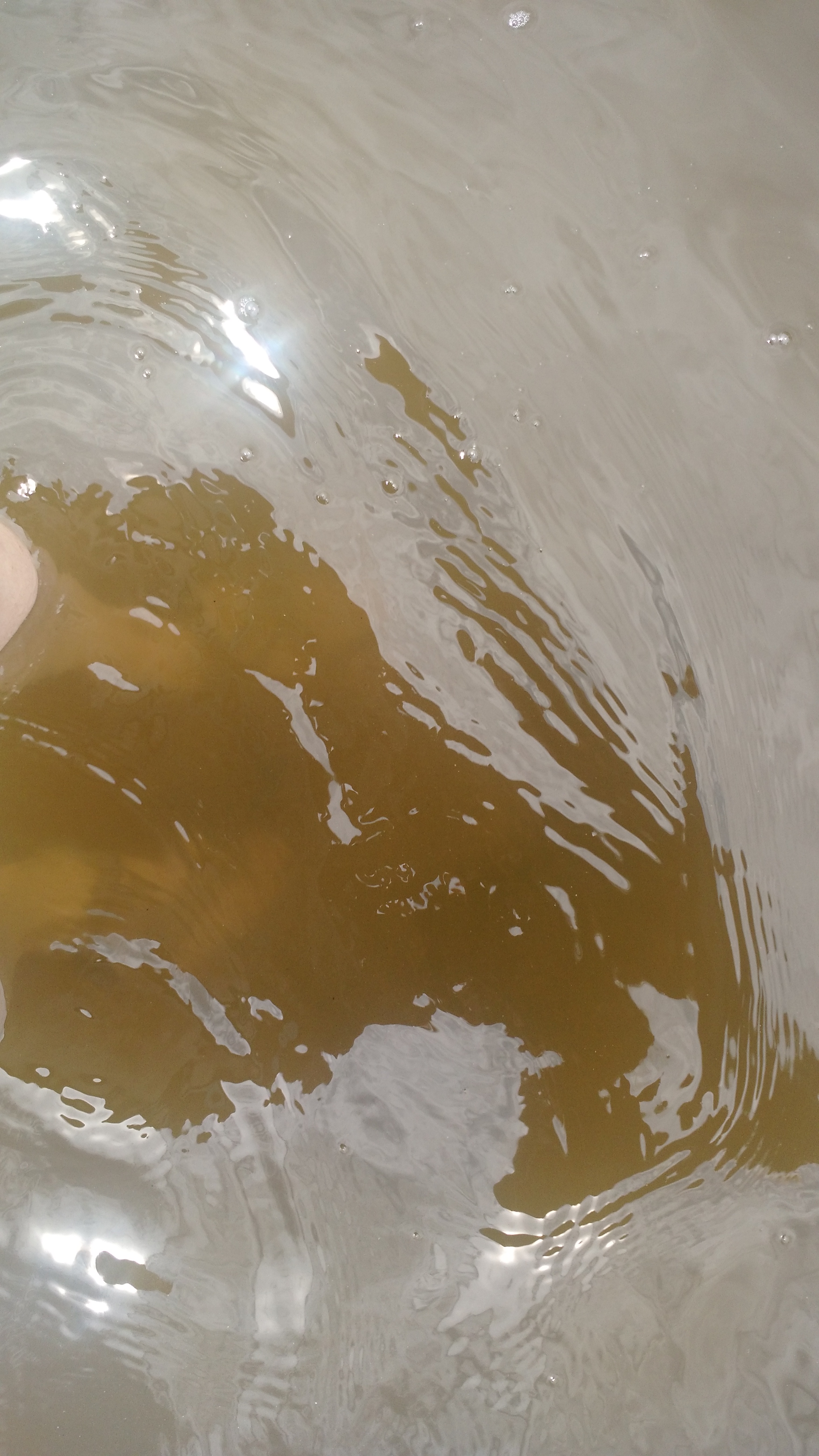 The official measurement for the first wade-in I attended was 26 inches, while the second one was 14 inches. These events were only one week apart, but the conditions on the two days were very different. The weather at the first wade-in was calm, though it had rained the night before, while it was very windy at the second one. Rain can cause soil runoff from the land; however it did not seem to adversely affect the water clarity much at the first wade-in. On the other hand, the wind at the second event stirred up the mud, which caused the water to be cloudier.
The weather conditions at both events tied in perfectly with the message about how different sized particles have very different effects on water clarity. And although there is not much we can do to control the weather, I really wanted to stress what we can do to reduce the amount of soil that makes it to the Bay. For example, planting trees near waterways helps hold soil in place so that it is not as easily eroded.
It was refreshing to see large crowds of people at both events, and I loved listening to people tell me stories about how they have seen positive changes in water quality in the upper Bay recently, such as the expansion of seagrass beds.
I often find that because I am intimately involved with my research, I sometimes struggle to see the bigger picture in how it can help us better understand and protect our environment. However, connecting with people at these wade-ins helped me zoom out and see how we can share our work with others in order to achieve a common goal of improving Chesapeake Bay water quality.