William Z. Haskell, postdoctoral fellow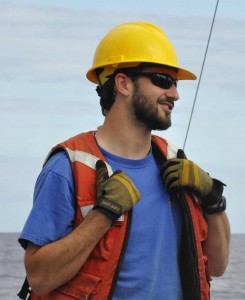 The prodigal son returns to Maryland, thankfully to HPL! Willie just finished his Ph.D. at the U. of Southern California with a beautiful dissertation on export efficiency in the coastal ocean. His postdoctoral research will use autonomous underwater vehicles to quantify the effect of internal waves on vertical nitrate supply and productivity on the continental shelf, in collaboration with Nick Nidzieko using the HPL Remus 600. Willie is the recipient of an NSF Ocean Sciences Postdoctoral Fellowship.
Thomas Lankiewicz, laboratory technician
Tom comes to us from U. Delaware where he got his M.S. working with Dr. David Kirchman. He received his B.A. in Biology at Grinnell College where he was a competitive swimmer. Here at HPL, he is learning the finer points of analytical chemistry and working with our cultures of nitrifying archaea and bacteria as part of our microbial growth efficiency project. He joined us on our recent expedition to the Gulf of Batabano, Cuba. He is trying hard to avoid me posting a picture of him on the website.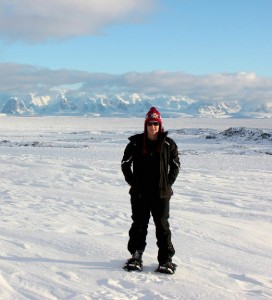 Sarah Laperriere, graduate student
Sarah was born and raised in Plymouth, MA. She got her B.S. in Biology and B.A. in Mathematics from Providence College and previously worked at the Marine Biological Laboratory in Woods Hole. More recently, Sarah was involved with the Buzzards Bay Water Quality Monitoring Program and the Antarctica Long Term Ecological Research Project. In 2012-2013, she had the opportunity to work at the Palmer Station in Antarctica, where she conducted microbial ecology and biogeochemistry field research. Sarah is working on her Ph.D. in Oceanography as part of the MEES program, studying N2O in Chesapeake Bay and at the San Pedro Ocean Timeseries as part of our NSF-funded project there. She is also our resident microbial diversity expert working on our stream microbiome project. She has a cat named Corona.
Alyson Santoro, Assistant Professor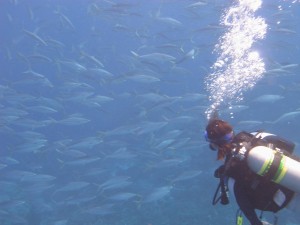 I started as a professor at Horn Point in 2011, and am an Associate Fellow in the Canadian Institute for Advanced Research Integrated Microbial Biodiversity program and a 2015 Sloan Foundation Research Fellow in Ocean Sciences. Since getting the lab set up, I have been maintaining our culture collection and working through my backlog of cruise samples. I love going to sea and have gotten to participate in some amazing field expeditions to Micronesia, the Equatorial Pacific, the California Current, and most recently Cuba. In July 2016, I will move to the Ecology, Evolution, and Marine Biology department at the University of California, Santa Barbara.
You can read about the courses I teach here. Check out our lab publications or my Google Scholar profile.
Lab alumni
Matt Rawls, laboratory technician – 2015
Lindy Fine, graduate student – 2013-2015
Paul Carini, postdoctoral researcher – 2013-2015 (present: postdoc at CU Boulder)
Bill Orsi, postdoctoral researcher – 2013-2014 (present: professor at U. Munich)
Michael Yifan Li, summer student – 2014
Alexandra Welch, laboratory technician -2013-2014
Adam McAnally – REU summer 2014
Rebecca Fox, postdoctoral researcher – 2013 (present: Assistant Professor at Washington College)
Molly George, laboratory technician – summer 2013
Hannah Geiser – REU summer 2012